15 February 1910 – 10 November 2001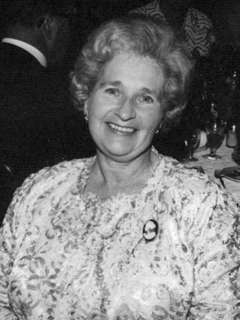 My Grandmother started writing some things about her life in 1991 until 2000. This is her story
Some thought meanderings about my life.
Most important words:
6. I admit I made a mistake
5. You did a good job
4. What is your opinion?
3. If you please
2. Thank you
1. We
The least important: I
My thought for my family is:
When I am gone fear not to say my name nor speak of me in muted tones as if it were a shame for one to die but let me figure in your daily talk, tell of my loves and joys of how I used to laugh or went awalk that way you'll keep me in your memory.
Margareta Broadbent January 1991
My father was born John Francis Jesina and my mother was born Wilhelmina Susanna Friedrich. Both born in Vienna, Austria.
After they married my parents moved to Berlin where my father had an Interior Decorating business, painting and paperhanging, etc. He was very clever at mixing and matching colours.
He was the first man to spray paint a motorcar with Duco with a De Vilbis spray gun in Sydney. He was on 51 Parramatta Road near Ross Street, but what with the depression and untrustworthy work people he was forced to close down.
My brother Hans Anthony was born in Schôneberg, Mattsstrasse Berlin and I, Margareta Maria Johanna Jesina was born in Charllottenburg, Mattsstrasse 9 Berlin.
Here it is January 1991 and I wish to write down some thoughts about my long life and facts about my beginnings so that my children and their children will know because I am the sole survivor of my family of my generation.
My parents were both born in Vienna Austria. My father was born in Attakring, district XVI and my mother was born in Dôbling district XIX. My father was born June 2, 1883 and mother was born February 18, 1885. Both were baptised in Roman Catholic rites.
They had 4 children — the eldest died aged 9 months from pneumonia and the youngest, Herbert, died in Port Said on October 27, 1913. He was born May 21, 1911. My mother followed my father to Australia with 3 children but was taken off the ship at Port Said because she had typhoid fever. I also had typhoid in a mild form, but my mother had a severe dose and was not expected to live. She was in the English hospital, which was run by Catholic nuns, and a French nun could speak German, as we had no English. My brother, Hans, whose birthday was July 30, 1908 and Herbert were looked after in the convent as was I after I recovered from the typhoid. I was about 3 1/2 and Hans had turned 5. Mum was delirious for about 3 weeks and when she was able to leave her bed she was wheeled in a wheelchair across a landing. When Herbert was on his way on all fours ascending the stone stairs to see Mum and she saw his snowy head and called his name. He apparently was startled and fell backwards on to a landing and had severe concussion. He died about 2 weeks later. Born May 21, 1911 died October 27, 1913.
It often happened in those days for the husband to come to Australia alone because, so little was known about this country, and if he thought it was okay the wife and children would join him, and because communication was so poor, Dad didn't know about us being off-loaded in Port Said so he went with a camera to meet us when the ship reached Melbourne because he first came out to Melbourne. When we didn't appear Dad asked and was told Mrs Jesina might be dead by now. So he had the German Consul arrange a berth on the next ship via Suez and came to Port Said. He gave Mum the option to go back to Austria or go on to Australia. Her reply was "I have lost so much and come so far I will go on." So we came and arrive in Melbourne on January 4, 1914 and lived for a time in Coburg. Then we moved to an irrigation small farm block at Nanala near Rochester on the Campaspe River. My parents didn't have a word of English when they came to Australia but learnt fairly quickly and Mum learnt from the first Primer when we went to school. She had a very good command of the English language. Sadly my children did not know her because she died of a heart seizure the night I went to Hospital to give birth to Susanne, October 7, 1944 and Susanne was born 5.45pm Sunday October 8, 1944. Mum was in her 60th year. She had hardening of the arteries and a strained heart and it was before the various treatments they have these days were known, which may have prolonged her life. Dad lived until 1967. He was 84 on June 2 and died August 4, 1967.
He remarried in 1946, a Miss Beryl Boissery, a trained nurse and she was able to give him injections when needed during many bouts of bronchial pneumonia in his later years so he did not have to be hospitalised. He was married over 20 years the second time. She was very kind — Beryl — but as different from Mum as chalk and cheese. She didn't have Mum's outgoing nature or her sense of humour but she always made us feel welcome and took great care of Dad. She died also on August 5, 1975. We kept going to visit her periodically right up to her death and she loved Matthew and Andrew and remarked on what joy they would have given to Dad. Susanne was the apple of his eye and when Geoff came along he loved him dearly as well. He encouraged him to learn all he could so that he would get on in life. Pity he didn't live to see Geoff graduate from University. He would have told everyone he knew with great pride. I think he was known by half the population of Gosford. We never got far in Menn Street without someone saying hello to him — it was "Hello and how are you, Mr Jesina" wherever we went in and around Gosford, and he very proudly introduced me and his grandchildren to all and sundry. And of course my husband, Dick, of whom he was very fond.
It occurred to me that I didn't really live at any time of my life selfishly but always in my youth trying to please my parents and their praise seemed to suffice and later tried to please my husband and children — I really lived for my family and tried to help voluntarily wherever I could. Dick and I married January 15, 1941 during the Second World War and moved into a house we had built for us in 1940 — 400 Kingsgrove Road, Kingsgrove. Then Croydon Road and as there were no house numbers at the time we were requested to name the house which we did and called it Wilma. A combination of the first letters of our Christian names — Wilfred and Margareta. Dick continued to work at R J Broadbent and Sons Fruit Agency in the city markets — then in the Haymarket Sydney. 21 Lackey Street off Pier Street where the Store and office was. It is no more. It is now part of the car park where the Entertainment Centre stands.
I had done a first aid course with the St John Ambulance before I married so I joined the Bexley National Emergency Services, known as NES, and we had a first aid post at Bexley Public School, taking over the Auditorium as the post had to be manned 24 hours of the day. We were rostered in 8 hour shifts. There were beds there to sleep, which of course would have been used had the need arisen for casualties should the Japanese invade our shores. As I had no children at the time, I was second in charge of the Post. Everyone seemed to be involved in the war effort, some made camouflage nets, some knitted and there were the soldiers parcels to be sent, which had to be packed and sewn in calico. I made some fruitcakes, as did my Mother. Eventually I was expecting a baby after having surgery after a miscarriage so that ended my NES work — but I had made some good friends who stood by me when Mum died so suddenly and I was devastated. It was something I couldn't come to terms with — the loss of my Mother especially because she never did see my firstborn child — Susanne — something we were all looking forward to. Susanne thrived and although she didnÕt walk until 14 1/2 months she was very lively and took some keeping up with. I didn't pick up until after she was 2 years old and of course time is the great healer and life must go on. Then January 19, 1950 Geoff was born and I think you know most things from then on.
I forgot to say Mum and I were very close and I was her confidante because we had no relatives in Australia. The older I get I realise more how very hard it must have been for her coming to a strange land and leaving parents and six sisters behind. And things were very primitive here outside of the centre of big cities. No electricity or gas — no water except tank water — and usually not even connected to the kitchen — which meant carrying every drop inside by bucket — mostly the kerosene tin. Two holes were made into opposite sides of a kero tin and a piece of fencing wire fitted as a handle. Of course, no flushing toilets. It was only since the end of the war in 1946 that Kingsgrove and all the outer suburbs were connected to the sewer. Baldface was only connected in the early 1960s. Wallacia had no laid on water and electricity until after World War Two.
I will now go back in time to after the First World War was over. It ended November 11, 1918 when I was 8 years old and we were still at Bendigo Victoria and we children all got a peace medal at school. I still have the peace medal in my little strong box. We were actually on a farm at Myer's Creek — 3 miles from Bendigo and Hans and I walked 3 miles to school on the outskirts of Bendigo to Specimen Hill State School. We had to pass a mine called Tambo Major — a gold mine which was still in operation and the huge slag heaps nearby.
We had a flag-raising ceremony each morning and marched into school to the music of the school band. In Bendigo they had a great Easter procession each year headed by the Chinese dragon. There were always Chinese where there were goldfields. There was a large Chinese market garden half way between school and home. We left Myer's Creek in 1919 and went to Queensland, to Wondai on a dairy farm in 1/2 share — 14 miles from a rail station and from a school so Hans and I couldn't go to school. Whenever there were a few clouds in the sky the owner of this property rushed inside and played the piano and sang "There is a happy Land not far away." We laughed it was so funny. We ran into a terrible drought so there was no income and the cows died from "Red Water" and "Black Leg" and had to be burnt. There was no water so the cows had to be driven daily many miles to drink at a bore head. Eventually there weren't many beasts left.
We had to leave after 9 months and we moved to a farm near Murgon. The walls of the house were papered with newspapers — I remember sitting up in bed and reading the wallpaper. The drought was still on and only for having the pigs and chooks to fill for food and having milk and butter from the cows and Mum growing vegies we would have starved. But because Mum was such a good cook and so good at sewing and making do we were always decently dressed and were never hungry. Remember it was real pioneering. Boil the washing in kerosene tins and having galvanised iron tubs to wash and bath in. And tank water, which was scarce in drought times. We went outside the kitchen door with out enamel mugs to clean our teeth even in the winter nights before we went to bed. Of course we couldn't make a living there so Dad heard of a place near Pamona Ð share farming a herd of 60 cows. All the family did their share of milking. I was 10 years old and milked 10 or 12 cows twice a day. And Mum milked her share as well as cooking, cleaning, sewing, mending, washing and ironing with flat irons on the wood stove. Kerosene lamps at night. I think at this place the owner didn't give Dad a fair go, so we had to move again. In the meantime, Hans and I went to 1 teacher schools where I was 4th class but the teachers in 1 teacher schools were excellent and our reading and writing and sewing for the girls was of a good standard. These 1 teacher schoolteachers were mostly young women and young men but very dedicated. Although Hans and I couldnÕt go to school for 9 months because of distance, we weren't behind in learning.
We finished up on a farm 7 miles out from Cooran in 1921 — then only 1 store, 1 hotel and a railway station and a state school, which had a headmaster and several assistants — mostly 2 classes to a teacher. Also there was a wooden Catholic Church where Hans and I made our first communion and were confirmed the same day by Archbishop Duhig who came from Brisbane. A Miss Bogue taught us our Catechism and she came once a week riding sidesaddle. I was chosen to read the address to the Archbishop at the communion breakfast in the hall, which was crowded — all the farmers having come for miles around. It was a great feast provided by the parents — chicken and salad etc. After I read the address I was led to the Bishop to shake hands with him. He complimented me and said the address would be published in all the Catholic newspapers in Queensland. I was 11 years old in 1921. I wore a lovely dress made of pure silk and lace — it was cream. It was then my best dress until I grew out of it. Of course, I never did see the event published because we couldn't get the Catholic paper.
Hans and I rode in 7 miles — Hans on a stock horse and I on a grey mare named Rosie. We rode the 7 miles each day to school. We were mostly late and had special permission to leave early because we had to milk before and after school and feed the calves and pigs. Up at 6am, have a cup of tea and slice of bread and off to the cowshed. We washed up at night after tea, did our homework and off to bed. There was a herd of 60 cows to milk between the four of us — Mum, Dad and we two. I milked 12 cows night and morning and my hands often ached and I cried, but kept on just the same. It was about this time that Mum was taken by ambulance to Gympie Hospital and I had to do the washing as well as everything else. There were no mod cons. The clothes were boiled in two kerosene tins hung from a cross bar which was supported by two forked tree limbs driven into the ground. We lit a fire under the tins. The tubs were round galvanised iron — quite large — and we also bathed in one in the kitchen in front of the stove. You can imagine how difficult it must have been for me to handle the boiling wash and the large tubs, which had to be filled with a kerosene tin from the tank and also emptied. I had to wring the clothes by had. Imagine wringing sheet and towels when you are seven. Kerosene tins were used widely — even to cook in when cut down — because kerosene cam in a case with two 4 gallon tins. Our lighting was kerosene lamps and many other uses. The cases were very nice smooth white wood and made a chest of drawers with 4 or 5 on top of each other and a curtain hung across the front. I also learned very fast to make scones in a fuel stove when we were in flood and couldn't cross the flooded creek to get the bread. I made two batches a day for a week! I took it all in my stride and maybe some of my problems now were started then — too much straining of my shoulder and arm ligaments and also my back. I rode to a neighbour a couple of miles away with a dress with a pleated skirt and asked her to iron it for me because I couldn't iron the pleats. No ironing board then and flat irons heated on the stove.
In February 1922, just before my 12th birthday, Dad sold up and we came to Sydney by train. I remember Mum and Hans and I waited at Central railway station while Dad looked for accommodation. There was a housing shortage at that time but Dad found rooms in a large house at 3 Henry Street, Leichhardt where we lived for some time. It consisted of one large room where Mum and Dad and I slept and Hans slept on the verandah. And we had to share a kitchen. There was a large front and side verandah and the room opened on to it — I think by French doors and there was a door leading into a wide hall where the telephone was. The people who owned the place — named Arundel were decent people and were Salvation Army followers, except the father who didn't go to church. Hans and I went to Rozelle to school — Hans to Christian Brothers and I to the convent school run by Good Samaritan sisters. I went to St Patrick's day sports and came home feeling very sick, so Mum rang a doctor recommended by Mrs Arundel, a Dr Hurliky. He said I had double pneumonia and ordered me to bed where I stayed for 4 weeks. No antibiotics then. Mum had to put an antiphlogestin poultice on my chest and back each day and I had bottles of the black medicine Ammonia and Seneca, which Dr Varady still believes in, for a bad cough. The abovementioned poultice as in a tin and had to be heated in a saucepan of boiling water — then spread onto a piece of flannel with a knife and when it was cooled off so it wouldn't burn and blister it was whacked on the chest and back. It was messy and tacky but that was the treatment in 1922 and for years after that. It was also used for sprains and all sorts of complaints.
It cost one penny for a child to travel on a tram so I got 2 pence a day for tram fares but I often walked from Rozelle home to Leichhardt so I could buy a cake from a cake shop in Rozelle which had a great selection of cakes — specially slices — a favourite of mine was French Pastry now called Palmiers made with Puff pastry and a delicious taste because they were made with butter. No margarine then. There were 3 grades of butter — 1st grade, 2nd grade and cooking butter. It come in boxes containing 56 lbs and were usually displayed on the counter and the grocer would serve the required quantity with butter pats and put it on real greaseproof paper and wrap it after patting into shape — it was quite an art. The butter had a better taste before homogenisation.
After a while we moved next door to number 1 which was a very large house on the corner with verandahs all around and we had 2 bedrooms, a dining room, kitchen and shared laundry with a bricked in fuel copper. It was at the back of the house looking directly on the large back garden, which had a pergola with, I think, a grapevine growing over it. This residence was owned by Mrs Wedderburn, the mother of the people who ran Wedderburn Scale Company. She was still living there and also a married daughter with her husband and family. They asked us in sometimes in the evening and besides conversation we would listen to their Edison gramophone, which played cylinder records — Harry Lauder was on some and all sorts of old time entertainers. Dad worked as a painter in Rosebery or Botany way at a car body building firm named "Steenboms."
In the meantime, I changed schools and went to St Fiancre's, which was closer. I only had one straight walk past Threadgold Park (a very small park) and the cemetery, which had a paling fence around it. In recent times I was driven somewhere and I noticed the paling fence is no more and I think it is called Pioneer Cemetery. Of course it was a closed cemetery in 1922 so it would hold mostly pioneers.
We eventually moved to a house in Weatherall Street Leichhardt and it was then that I had twelve months maybe more at Domremy College in Five Dock. I had to leave because Mum was not well and I had to stay home and help with the chores. When I was 15 I had my first job at Caldwells Wines in Camperdown as office girl and switch operator for the princely sum of £1 per week, which I gave to Mum and she gave me my fares, which was 3/- per week — threepence each way on the tram. I often walked from Johnson Street, which was end of a section to save one penny.
I feel my greatest achievement has been giving birth to my children and together with my husband, raising them to be decent and honourable citizens of this great country, which I have always loved and my parents who came from faraway Austria grew to love in spite of all the heartache and hard work.
The icing on the cake was and is the love of my grandchildren and living long enough to see my little great granddaughter Marissa. She is a darling child and I feel will go far. She has great intelligence for one so young.
Over the years since I was nine years old I have suffered severe headaches and back problems and then when I was 56 the shock of having cancer in my mouth. The horrendous operations I had and for 24 years disfigured and having no teeth has been a cross which I've borne without too much complaint, I hope. But since August 1999 when I had another carcinoma, has been very hard to bear but somehow I have been given the inner strength to cope fairly well.
And I feel cheated that I can't give Marissa a proper kiss or anyone else for that matter and the hearing loss, having only one working ear, is a great frustration, especially when I can't hear at meetings. I have learned to accept it but it isn't always easy. And now there is the difficulty eating and drinking and the fear of choking. Despite all this I still feel very best in so many ways and thank God for it.
And on reflection I have been compensated largely by all the very good and true friends I have made since all this has happened to me. And it goes without saying that I couldn't manage now in my older old age without the constant help of Susanne which she gives so lovingly and without reserve when often she is not at all well herself. And then Geoff does all the odd jobs in the villa for me which save me heaps and he does it with such good humour. Ron is also a good help in many ways. Thank you to one and all. Thank you too Andrew for your many meals and consideration.
Margareta (Greta) Maria Johanna Broadbent (Gran) suffered a stroke on Monday July 2, 2001 aged 91 and five days before the birth of her second great grandchild Arianna Marie Faith, sister of Marissa. She was hospitalised and eventually went home, but suffered a second stroke and hospitalised again where she passed away on Saturday November 10, 2001.]]>